Part Number :

010-01378-07
Key Features
All-in-one 6.0-inch premium sat nav with built-in dash cam and driver awareness features Detailed maps of Europe and Middle East & North Africa with free lifetime1 map updates Integrated dash cam continuously records your drive and automatically saves fil
nüviCam: Guides. Alerts. Assists
All-in-one 6.0-inch premium sat nav with built-in dash cam and driver awareness features
Detailed maps of Europe and Middle East & North Africa with free lifetime

1

map updates
Integrated dash cam continuously records your drive and automatically saves files on impact
Forward Collision Warning

3

alerts if you drive too close to the car ahead
Lane Departure Warning

3

alerts if you drift off the road or into oncoming traffic
Garmin Real Vision™ displays camera view when approaching select destinations
With a built-in dash cam5 that continuously records your drive, plus features that enhance driver awareness, nüviCam LM takes navigation to a whole new level.
Innovative Design
Want to take a closer look at your route? The high-resolution 6.0-inch glass display on your nüviCam LM offers pinch-to-zoom capability. The product design also features a powered magnetic mount that securely holds and charges nüviCam as you drive.
Detailed Maps with Free Updates
nüviCam LM comes preloaded with detailed maps of Europe and Middle East & North Africa. With free lifetime1map updates, your routes are sure to reflect the most up-to-date maps, points of interest (POI) and navigation information available. New maps are available for download for the useful life of your sat nav — no subscriptions; no fees.
Our Best Traffic Solutions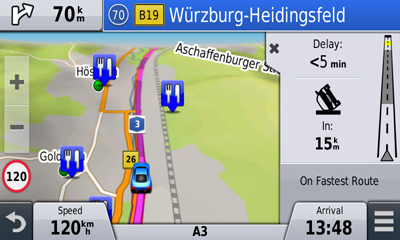 Garmin Digital Traffic via DAB is Garmin's best traffic solution. Digital Traffic is fast and free2 — no distracting advertising and no subscription fees, ever, for the useful life of your device. Receive traffic updates as often as every 60 seconds. Plus, Digital Traffic has a great coverage area that includes motorways, A roads and more minor roads. Digital Traffic is voice-activated, so it responds to spoken requests. It can give details about the situation, such as how many minutes of delay to expect and if there are any possible detours. Even learn whether or not you are on the fastest route. Traffic information is delivered straight to your nüviCam.
Premium Driver Awareness Features

One of the most comprehensive portable sat navs ever to hit the road, nüviCam LM offers the latest in premium driver-assist features typically found only in luxury cars. For example, the Forward Collision Warning³ alerts if you're driving too close to the vehicle ahead. Or, if you drift off the road or into oncoming traffic, you'll see and hear Lane Departure Warning3 alerts.
Built-in Dash Cam

Offering the protection of "an eyewitness that never blinks," nüviCam LM comes with a built-in, high-definition dash camera that records your drive. If a collision occurs, the device's Incident Detection G-sensor will automatically save files on impact. GPS records exactly where and when events occurred. And the device's swivel lens lets you adjust camera angle for better recording from your nüviCam's windscreen or dashboard mounting location.You can play back the video on your large, 6.0-inch display — and even view a map of where you were at the time of the incident. If you like, you can even watch the video later on your computer screen or smart TV. There's also a Snapshot feature on the nüviCam that allows you to capture still images — and you can even remove the unit from your vehicle to take pictures of any collision damage. For storage of your recorded video data, a 4 GB microSD™ card is included with your device.
Get a Clear View of Your Destination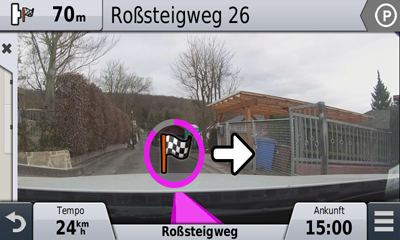 Thanks to Garmin Real Vision™, hard-to-read house numbers are a thing of the past. When approaching select destinations, your nüviCam LM display will switch to camera view and a brightly coloured arrow will point exactly to where you want to go.
Talk to Your nüviCam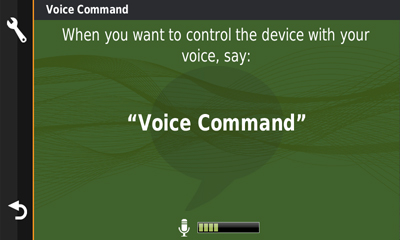 nüviCam LM offers you the option of convenient voice-activated navigation. Speak and your device intelligently responds, while your hands can remain safely on the wheel.
Bluetooth Compatible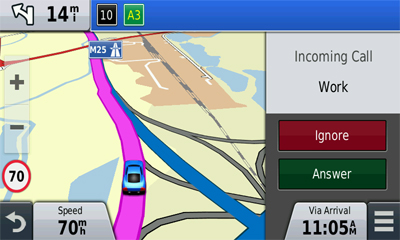 Sync a Bluetooth®-enabled device, like a smartphone, to your nüviCam for hands-free calling through its integrated microphone and speaker. Safely store your phone in a glove box, pocket or purse and still dial, answer and take calls without moving your hands from the steering wheel or your eyes from the road.
Smartphone Link Compatible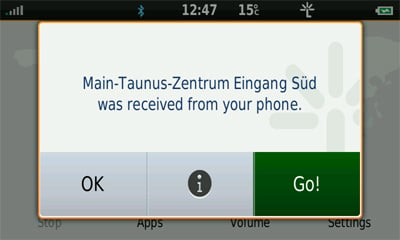 Smartphone Link is a free mobile app4 that connects nüviCam with your compatible iPhone® or Android™smartphone. When paired, your nüviCam can use your phone's existing data plan to share information — such as where you parked, POIs and your destination. With the Smartphone Link app, you can conveniently send locations and addresses from your phone straight to your nüviCam LM. Smartphone Link also gives you access to Garmin Live Services with useful real-time information such as weather.
Guidance Using Recognisable Landmarks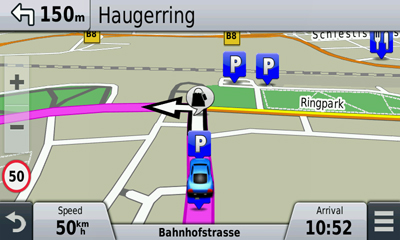 nüviCam LM redefines "spoken turn-by-turn directions" with Garmin Real Directions™, easy-to-understand driving directions that guide like a friend — using recognisable landmarks, buildings and traffic lights. No more stress from trying to read street names. Instead, hear clearly spoken guidance, like "Turn left after the petrol station."
Navigate Complex Interchanges with Ease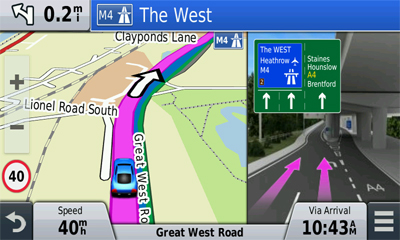 Active Lane Guidance with voice prompts prepares you to drive through an exit or junction with confidence. As you approach, an animated model uses brightly coloured arrows to indicate the proper lane needed for your route; a friendly voice offers additional help. Bird's Eye junction view offers a detailed view of junctions, looking down as if from overhead. Also, photoReal Junction View realistically displays junctions along your route, including the surrounding landscape. Brightly coloured arrows indicate the proper lane to drive, and nüviCam even shows real road signs as they appear along your route.
Foursquare Adds Millions of New POIs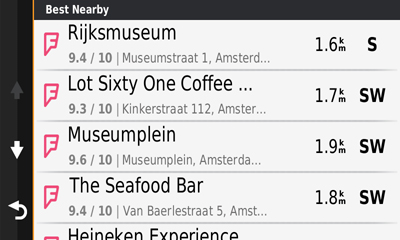 nüviCam LM makes it easy to find addresses and millions of points of interest. Our POI database also includes accurate, relevant information sourced from Foursquare. Now, when you search, the most relevant Foursquare result appears at the top of the list. It's an easy way to discover new and popular restaurants, shops and more.
When you use the Smartphone Link app with your nüviCam, you can also check-in on Foursquare and access more detailed information about the POI, including ratings, price range and hours of service.
Find Exactly Where You Need to Go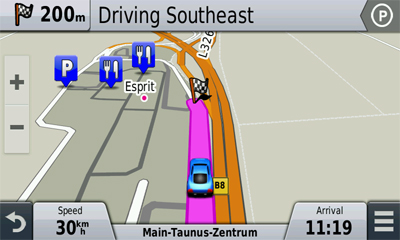 Direct Access simplifies navigating to select complex destinations, like airports and shopping centres, by finding a place within a larger location. When navigating to the shopping centre, Direct Access gives additional location information for specific retail stores inside. Direct Access even navigates through car parks to find the entrance nearest your destination.
Keep an eye on the latest speed cameras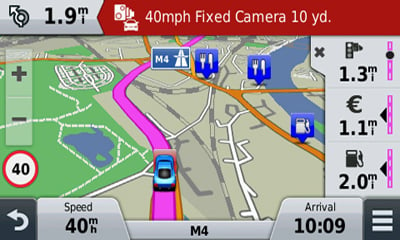 nüviCam LM contains our unique Cyclops Speed Camera system, for real-time, direction-relevant and accurate alerts. The full safety camera database is already pre-loaded on your sat nav. However, you can get regular or one-off updates to ensure you've always got the latest camera locations, so you can drive safety and legally.
School Zone Warnings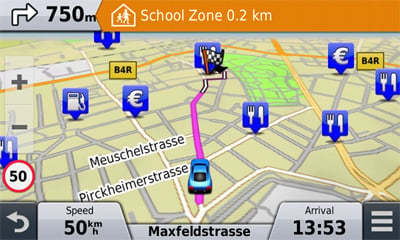 Good driving is cautious driving, especially when children are around. To help, your nüviCam LM issues an audible alert and displays an onscreen warning whenever you approach a school zone. The displayed speed limit also changes to reflect the school zone speed limit.
More Information At-a-glance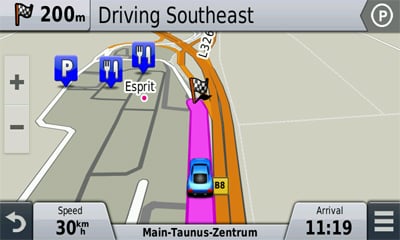 nüviCam LM keeps your driving map onscreen at all times and additional information appears alongside. As you drive your route, Up Ahead constantly informs you of nearby services, including food, fuel and ATMs. Other good-to-know information, displayed on your nüviCam, includes speed limit, current speed, current street and arrival time at your destination.
1Lifetime Maps Terms & Conditions
3Certain conditions may impair the warning function. Visit garmin.com/warnings for details.
4User's data plan charges, if any, will apply. Contact your mobile service provider for more information about your service plan's data and roaming rates. Subscription may be required.
5Notice: In some countries it could be considered an invasion of privacy rights to take or publicly display photographs or videos of people or their vehicles using this product. It is your responsibility to know and comply with applicable laws and rights to privacy in your country. Recording function can be disabled in the device settings.
The Bluetooth® word mark and logos are owned by the Bluetooth SIG, Inc. iPhone® is a trademark of Apple, Inc., registered in the U.S. and other countries. Foursquare® and the Foursquare® logos are registered trademarks of Foursquare Labs, Inc.
Part Number
010-01378-07
inthebox
nüviCam LM EU + MENA Lifetime maps¹  (indicated by "LM" after model number on the box) Vehicle suction cup mount and magnetic mount Vehicle power cable microSD™ card USB cable Quick start manual
dimensions
18.3 W x 9.4 H x 1.5 D cm (3.3 cm D with camera)
DISPLAY SIZE
13.6 x 7.2 cm; 15.4 cm diag
DISPLAY RESOLUTION
800 x 480 pixels
DISPLAY TYPE
WVGA color TFT with white backlight
Battery
rechargeable lithium-ion
BATTERY LIFE
up to 30 minutes
built in memory
internal solid state
accepts data cards
Yes (see Additional specs)
waypoints favorites locations
1000
speaks street names
voice activated navigation
lane assist
route avoidance
bluetooth wireless tech
speed limit indicator
custom pois
gps enabled
junction view
view upcominpoints of interest alonroute
country of manufacture
Taiwan
weight g
319.2 g
color
Black
high sensitivity receiver
preloaded street maps
includes life time map updates
numaps guarantee
nüviCam LM EU + MENA
Lifetime maps¹ (indicated by "LM" after model number on the box)
Vehicle suction cup mount and magnetic mount
Vehicle power cable
microSD™ card
USB cable
Quick start manual
Customer Reviews
Based on 0 reviews
---
Sorry! there is no reviews about this product. Be the first one to
Write a review
about this product.