fenix® 5X Slate Gray Sapphire with Metal Band
Part Number :

010-01733-03
Key Features
fenix® 5X Slate Gray Sapphire with Metal Band
Multisport GPS Watch with Full-color Map Guidance
Ultimate multisport GPS watch with full-color TOPO U.S. mapping, routable cycling maps and other outdoor navigation features
Fit for adventure with rugged design that features stainless steel bezel, buttons and rear case
Built-in navigation sensors include GPS and GLONASS capability to track in more challenging environments than GPS alone as well as 3-axis compass, gyroscope and barometric altimeter
Put key stats at your fingertips with the performance widget that shows your training status, training load and more
Connected features² include smart notifications, automatic uploads to Garmin Connect™ online fitness community and personalization through free watch faces and apps from our Connect IQ™ store

Combining world-class performance with the best features of our fitness and outdoor watches, f?nix 5X is the premiere multisport training companion. It's the first f?nix series watch to offer full-color TOPO U.S. mapping for at-a-glance navigation and location reference – so you can beat yesterday, and be sure of getting back. You get advanced features such as Elevate™ wrist heart rate technology¹, built-in activity profiles, performance metrics and training status readings that show the fitness-enhancing effects of your workout. Smart notifications² help you stay in touch on the go. Plus, QuickFit™ bands let you tailor the look to any lifestyle or activity – no tools required. Go from workplace to workout without breaking stride.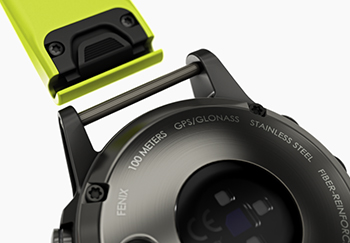 Rugged Endurance, Elegant Style
The f?nix 5X multisport watch features a protective PVD-coated stainless steel bezel and buttons and a reinforced housing for extra durability. Each watch is water-rated to 100 meters and features advanced GPS and GLONASS satellite reception to track in more challenging environments than GPS alone. You can count on long battery life in each mode of operation (varies by model, depending on settings). A bright, high-resolution, full-color Garmin Chroma Display™ with LED backlighting assures great readability in all ambient conditions – from harsh daylight to dim lighting. Transflective technology that reflects and transmits light at the same time enables the watch face to become even more readable under intense sunlight. Sapphire editions feature a scratch-resistant sapphire lens and are also Wi-Fi®-enabled so your watch can connect to your wireless network and automatically send activity uploads for sharing on Garmin Connect.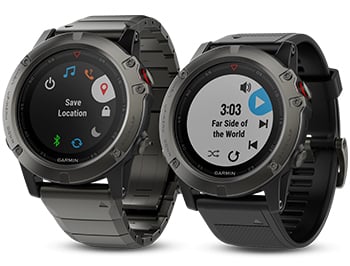 Wrist-based Heart Rate¹
On your wrist, Elevate wrist heart rate technology lets you monitor your heart rate without wearing a chest strap. In addition to counting steps and monitoring sleep, the watch uses heart rate to provide calories burned information and quantify the intensity of your fitness activities.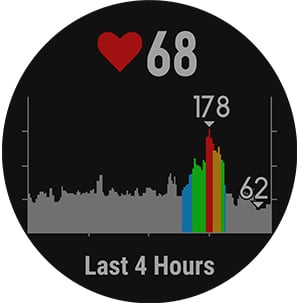 A Full-color Roadmap to Success
Whether you're in the city or on the trail, an array of f?nix 5X on-watch mapping and navigation features help keep you oriented and on-course at a glance.
Full-color TOPO U.S. mapping that comes preloaded; map data is optimized for at-a-glance navigation and location tracking on your wrist
Round-trip Run and Round-trip Ride routing options give runners and cyclists the ability to enter a distance they want to travel and have the watch suggest appropriate courses
Easy-to-read guidance cues provide banners on the display that show upcoming turns
Around Me map mode displays locations nearby in a simplified graphical interface that increases awareness and ease when navigating in unfamiliar environments
Data overlays on the map highlight key information so you don't have to switch screens while in an activity
GroupTrack allows you to keep tabs on your buddies for adventures such as skiing; LiveTrack allows friends to follow your adventures in real time²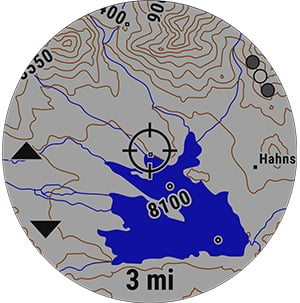 Advanced Performance Metrics
Every f?nix 5X watch is packed with sophisticated training features to help monitor your form and performance³. Enhanced readouts for Training Status and Training Effect show aerobic and anaerobic benefits of your workout – so you can see how your workouts are paying off and even compare results with your peers. The VO2 max estimator crunches data, including your running speed, beats per minute and heart rate variability, to estimate the maximum volume of oxygen you can consume per minute. And other fitness metrics include recovery advisor with a recovery timer and recovery check, plus a race predictor that estimates your ideal finish time based on your current VO2 max number.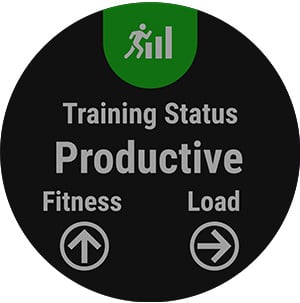 Advanced Running Dynamics
Now you can go further with your running data. Garmin training features that tap into extended physiological metrics and advanced running dynamics¹ can help improve your form and overall performance. These include:
Performance condition: After running for 6-20 minutes, f?nix 5X compares your real-time condition to your average fitness levels
Lactate threshold: Through analysis of your pace and heart rate, f?nix 5X estimates the point where your muscles start to rapidly fatigue
Cadence — number of steps per minute
Stride length — shows your stride length in real time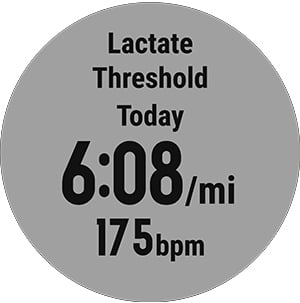 Want more? By pairing your watch with a compatible heart rate chest strap such as the HRM-Run™, you can access these additional f?nix 5X metrics³:
Vertical oscillation and ratio — the degree of 'bounce' in your running motion and the benefit ratio to stride length
Ground contact time and balance — shows how much time, in the running motion, your foot is on the ground rather than in flight and lets you check your running symmetry
Stress score: f?nix 5X measures your heart rate variability while standing still, for 3 minutes, to provide you with an estimated stress level. The scale of this is 1 to 100; low scores indicate lower stress levels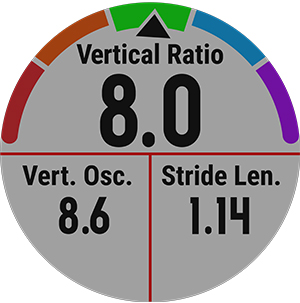 Swim Profiles, Skiing, Paddle Sports, Golf and More
Beyond their running functions, fenix 5 watches also offer special feature sets to help with swim training, skiing, golfing and paddle sports, including stand-up paddle boarding and rowing. For swimmers, the device tracks your distance, pace, stroke count and more. Ski/Board mode puts speed, distance, vertical drop and an automatic run counter (with Auto Pause for the lift line) and more at your fingertips. The feature set for paddle sports includes stroke count, stroke rate and even distance per stroke. Golf mode gives you yardage to the front, back and middle of the green for any single course you've downloaded from Garmin Connect – and also adds enhancements such as stat tracking (fairways hit, etc.), Green View, AutoShot detection and auto measure.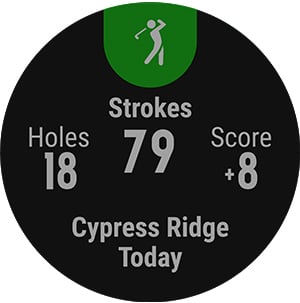 Navigate the Great Outdoors, Your Way
Each model in the f?nix 5 series provides comprehensive navigation and tracking to guide you on and off the beaten path using GPS plus ABC (altimeter, barometer and compass) sensor capabilities. The built-in altimeter provides elevation data to accurately monitor ascent and descent, while the barometer can be used to predict weather changes by showing short-term trends in air pressure. The 3-axis electronic compass keeps your bearing, whether you're moving or not. In addition, there's an internal gyroscope to help improve position accuracy (and battery life) in UltraTrac™ mode – as well as a thermometer to help you monitor changing weather conditions.
So Many Ways to Stay Connected
All f?nix 5 series models can support smart notifications when paired with a compatible device. Receive emails, texts and alerts right on your watch – whether you're on the trail, on the golf course or simply away from your desk. Other connected features include automatic uploads to our Garmin Connect online fitness community, live tracking and social media sharing through our free Garmin Connect and Garmin Connect™ Mobile applications.
Custom Apps and Watch Faces
You can customize your f?nix 5X watch with free downloads from our Connect IQ store. Change your watch face, add data fields or get apps and widgets for information at a glance.
Garmin is continually working with top companies and developers to build partnerships that add even more value to your f?nix multisport watch. Names such as Uber, Strava, AccuWeather and many others offer apps and enhancements that let you tailor your f?nix 5X to fit your lifestyle in more ways than ever.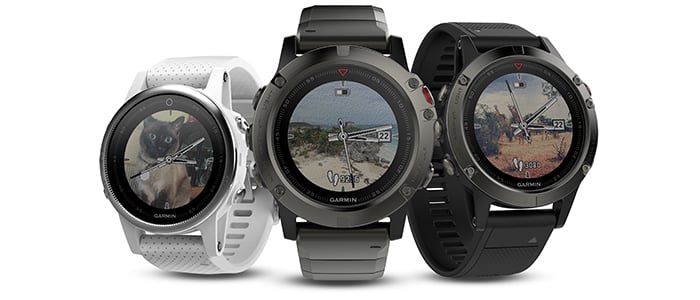 Wear Your Personality on Your Sleeve
You can also download the free Garmin Face-It™ watch face app to customize your f?nix 5X with any photo from your smartphone. Just download the app, choose an image from your photo library, adjust the style for time and set it as your watch's face. Whether it's a scenic view from your last hike or a picture of your new puppy, with Garmin you can add personality to your watch that's uniquely you.
¹See Garmin.com/ataccuracy
²When paired with a compatible smartphone;
³When paired with heart rate monitor; included with some models, sold separately on others
Part Number
010-01733-03
inthebox
fenix 5X Sapphire Charging/data cable Documentation
dimensions
2.0" x 2.0" x 0.7" (51.0 x 51.0 x 17.5 mm)
DISPLAY SIZE
1.2" (30.5 mm) diameter
DISPLAY RESOLUTION
240 x 240 pixels; sunlight-visible, always-on, low power, colorful display
Battery
rechargeable lithium-ion
BATTERY LIFE
Up to 2 weeks in smartwatch mode (depending on settings), up to 24 hours in GPS mode, and up to 100 hours in UltraTrac battery saver mode
built in memory
12 GB
waypoints favorites locations
1,000
custom pois
gps enabled
WATER RATING
10 ATM
country of manufacture
Taiwan
weight g
With silicone band: 3.5 oz (98.0 g)
high sensitivity receiver
routes
30
track log
10,000 points; 100 saved tracks
electronic compass
BAROMETRIC ALTIMETER
HUNT/FISH CALENDAR
SUN AND MOON INFORMATION
AREA CALCULATION
garmin connect compatible
vibration alert
DIGITAL SCORECARD
heart rate monitor
Yes (wrist-based)
bike speed cadence sensor
yes (optional)
automatic sync
INTERVAL TRAINING
heart rate based calorie computation
virtual racer
trainineffects
music control
FIND MY PHONE
STEP COUNTER
AUTO GOAL (LEARNS YOUR ACTIVITY LEVEL AND ASSIGNS A DAILY STEP GOAL)
MOVE BAR (DISPLAYS ON DEVICE AFTER A PERIOD OF INACTIVITY; WALK FOR A COUPLE OF MINUTES TO RESET IT)
sleep monitorinmonitors total sleep and periods of movement or restful sleep
accelerometer calculates distance for indoor workouts without need for a foot pod
virb control
COLOR DISPLAY
negative mode display
GLONASS
smart notifications displays email text and other alerts when paired with your compatible phone
watch functions
Time of day (12/24h), calendar (day/date), daily alarm, stop watch, timer, sunrise/sunset alerts
virtual pacer compares current pace to target
v02 max estimate
recovery advisor
race predictor
runnindynamics
personal records
compatible with vector
multiple bike profiles
auto multisport switch sport modes with 1 button press
calculates calories burned
virtual partner train against a digital person
auto pause pauses and resumes timer based on speed
swim workouts
Yes
multi sport changes sport mode with a press of a button
advanced workouts create custom goal oriented workouts
MEASURES SHOT DISTANCE (CALCULATES EXACT YARDAGE FOR SHOTS FROM ANYWHERE ON COURSE)
YARDAGE TO F/M/B (DISTANCE TO FRONT, MIDDLE AND BACK OF GREEN)
YARDAGE TO LAYUPS/DOGLEGS
pool swim metrics lengths distance pace stroke countrate calories
stroke type identification e freestyle
open water swim metrics distance pace stroke countrate calories
pace alert triggers alarm
ability to add maps
COURSES
time and distance alert
customizable screen
POWER METER COMPATIBLE
auto lap automatically starts a new lap
auto scroll cycles through data pages durinworkout
fenix 5X Sapphire
Charging/data cable
Documentation
Customer Reviews
Based on 0 reviews
---
Sorry! there is no reviews about this product. Be the first one to
Write a review
about this product.