Part Number :

010-01040-66
Full Featured Training Watch for Multisport Athletes
Tracks distance, pace and heart rate¹

Calculates recovery time and VO2 max estimate (when used with heart rate monitor)

HRM-Run™ monitor¹ adds data for cadence, ground contact time and vertical oscillation

Connected features²: uploads to Garmin Connect and BaseCamp™ for live tracking, sharing

High-sensitivity GPS positioning, 3-axis compass with altimeter, barometer
Combining the best features of our fitness and outdoor watches, the f?nix 2 is the ideal multisport athlete's training partner. Whether running, climbing, riding, hiking, paddling, skiing, or even swimming, the f?nix 2 lets you easily switch between feature sets for easier access to the information you need. Switch from advanced fitness training features like VO2 max, Virtual Partner® and a recovery advisor, to high-sensitivity GPS tracking features like 3-axis compass, worldwide Basemap, and TracBack®. And with Smart Notifications you stay in touch, even while you're out testing your mettle.
Advanced Fitness Metrics
f?nix 2 is packed with training features to tell you about your form and fitness. The first is the VO2 max estimator. When used with a heart rate monitor, f?nix 2 crunches data, including your running speed, beats per minute and heart rate variability to estimate the maximum volume of oxygen you can consume per minute. Track changes to your VO2 max to see your fitness gains and in order to compare to your peers. Other fitness metrics include recovery advisor with a recovery timer and recovery check. Plus a race predictor, which estimates your ideal finish time based on your current VO2 max number.
Running Dynamics Features
f?nix 2 incorporates sophisticated Garmin running watch feedback on your running form by reporting multiple metrics. When used with the HRM-Run monitor¹, f?nix 2 reports your cadence, vertical oscillation and ground contact time. These metrics are called running dynamics, and they affect your running economy.
Swim Profile and Ski-board Mode
The f?nix 2 isn't just for outdoor fitness; special feature sets help swim training and skiing too. Borrowing from the Garmin Swim™, f?nix 2 tracks your distance, pace, stroke count and more. You just tell f?nix 2 the size of the pool you're swimming in and begin your workout. Ski-board mode puts speed, distance, vertical drop and an automatic run counter (with auto pause for the lift line) and more at your fingertips. You can even use your f?nix 2 as a glove-friendly remote, via ANT+®, for the VIRB® and VIRB Elite action cameras.
Navigate Your Way
No other navigator GPS+ABC wristwatch offers you the combined training functions and our leading GPS technology. f?nix 2 provides comprehensive navigation and tracking functionalities as well as trip information to guide you on and off the beaten track. Its built-in sensors provide information on heading, elevation and weather changes. It's built to endure the toughest outdoor conditions — and also makes a stylish day-to-day timepiece.
It records a track log creating a GPS "bread crumb trail" as you move. It also allows you to mark waypoints such as a start/finish line, course checkpoint, or a campsite, vehicle or other point of interest. With f?nix 2, you can create and follow routes, mark up to 1,000 waypoints and store up to 10,000 track points.
Plan trips and share adventures with friends and family using BaseCamp. f?nix is equipped with both ANT capabilities and Bluetooth® to wirelessly share tracks, waypoints, routes and geocaches with other compatible Garmin devices or smartphones.
Altimeter, Barometer and Compass
f?nix 2 is equipped with ABC sensors (altimeter, barometer and compass) to provide relevant real-time information. The built-in altimeter provides elevation data to accurately monitor ascent and descent, while the barometer can be used to predict weather changes by showing short-term trends in air pressure. The 3-axis electronic compass keeps your bearing whether you're moving or not.
f?nix 2 auto-calibrates its ABC sensors using its GPS receiver and also auto sets the time based on location. For an extremely accurate temperature reading, pair it with our tempe™ external temperature sensor.
Built to Endure
f?nix 2 combines a strong housing to survive shocks with a mineral glass lens to resist scratching. It boasts a large LCD display with LED backlight and a robust polyurethane wristband. An alternate fabric wrist strap (with hook-and-loop fastener) is also included with your f?nix 2 to accommodate all wrist sizes and so you can strap it on top of a heavy jacket. f?nix 2 is water-rated to 5 ATM and has a battery life of up to 50 hours in GPS mode (depending on settings) and up to 5 weeks in watch mode. Basic watch functions include alarms, tones, vibration alerts, timer, stopwatch and world clock with the ability to display several times zones at once.
Features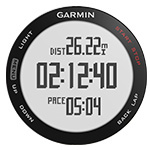 At-A-Glance Training Information
Get quick access to current pace, distance, split times and even whether you are ahead or behind your target pace.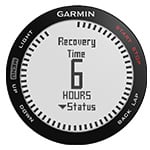 Recovery Time
Estimates your state of recovery immediately following a run and operates in a countdown mode until the next effort. Recovery can range from 6 to 96 hours.
Recovery Check
Provides a real-time assessment of your recovery in the first several minutes of a run.
Altimeter
f?nix 2 has a built-in barometric altimeter that provides accurate elevation information so you can keep track of your ascent and descent.
Barometer
The built-in barometer can help you monitor and predict weather changes by showing you short-term changes in the barometric air pressure. If the barometric pressure begins a steady decline, this could be a warning of an impending storm.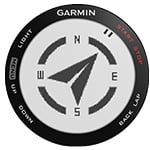 Compass
f?nix 2 includes a 3-axis electronic compass that keeps your bearing whether you're moving or not. Sight a bearing and be confident that f?nix 2 will keep you headed toward your goal.
Temperature Sensor
You can gain insight into temperature trends from the built-in temperature sensor. Knowing how rapidly the temperature is rising or falling can help you determine clothing and shelter needs or whether it's time to turn back.
Wireless Unit-to-unit Communication
Easily share tracks, waypoints, routes and paperless geocaches wirelessly with other compatible Garmin GPS units and smartphones. f?nix 2 is equipped with both ANT+® capabilities and Bluetooth® technology. That means can also pair f?nix with several external devices, such as our temperature sensor, heart rate monitor and speed/cadence bike sensor.
Part Number
010-01040-66
inthebox
fenix 2 GPS watch with red bandFabric wrist strap kitUSB charging/data cableAC adapterQuick start manual
dimensions
1.9" x 1.9" x 0.7" (4.9 x 4.9 x 1.7 cm)
DISPLAY SIZE
1.2" (3.1 cm) diameter
DISPLAY RESOLUTION
70 x 70 pixels; transflective, monochrome LCD (positivemode-white)
Battery
Rechargeable 500 mAh lithium-ion
BATTERY LIFE
Up to 50 hours in UltraTrac mode; up to 20 hours in GPS training mode; up to 5 weeks in watch mode
built in memory
32 MB; available 25 MB
waypoints favorites locations
1,000
gps enabled
WATER RATING
5 ATM
country of manufacture
Taiwan
weight g
3.0 oz (85.0 g)
high sensitivity receiver
basemap
routes
50
track log
10,000 points; 100 saved tracks
electronic compass
Yes
BAROMETRIC ALTIMETER
HUNT/FISH CALENDAR
SUN AND MOON INFORMATION
AREA CALCULATION
garmin connect compatible
vibration alert
heart rate monitor
yes (optional)
bike speed cadence sensor
yes (optional)
INTERVAL TRAINING
heart rate based calorie computation
trainineffects
accelerometer calculates distance for indoor workouts without need for a foot pod
virb control
smart notifications displays email text and other alerts when paired with your compatible phone
v02 max estimate
recovery advisor
race predictor
runnindynamics
compatible with vector
auto multisport switch sport modes with 1 button press
calculates calories burned
virtual partner train against a digital person
auto pause pauses and resumes timer based on speed
multi sport changes sport mode with a press of a button
advanced workouts create custom goal oriented workouts
pool swim metrics lengths distance pace stroke countrate calories
stroke type identification e freestyle
open water swim metrics distance pace stroke countrate calories
pace alert triggers alarm
ability to add maps
fenix 2 GPS watch with red band
Fabric wrist strap kit
USB charging/data cable
AC adapter
Quick start manual
Customer Reviews
Based on 0 reviews
---
Sorry! there is no reviews about this product. Be the first one to
Write a review
about this product.