Part Number :

010-01457-10
Key Features
All-in-one 6.0-inch trucking navigator with premium navigation features and a built-in dash cam that serves as an eyewitness on the road Detailed maps of Europe with free lifetime map1 and digital traffic2 updates, the best traffic avoidance solution available from Garmin Click here to see map coverage for this product Free Garmin DIGITAL Traffic via DAB – Garmin's best traffic solution – out of the box! Customised truck routing6 for the size and weight of your truck Road warnings for bridge heights, weight limits, sharp curves, steep gradients and more
Our First Truck Navigator with Built-in Dash Cam
All-in-one 6.0-inch trucking navigator with premium navigation features and a built-in dash cam that serves as an eyewitness on the road
Detailed maps of Europe with free lifetime map1 and digital traffic2 updates, the best traffic avoidance solution available from Garmin
Customised truck routing6 for the size and weight of your truck
Road warnings for bridge heights, weight limits, sharp curves, steep gradients and more
Meet your new trucking navigator. And eyewitness.
Every time you hit the road, your livelihood is at stake. That's why you need more than navigation guidance. With its built-in dash cam, d?zlCam LMT-D will capture and save footage of any collision which can make all the difference when fault is being determined. The magnetic mount lets you easily secure or remove d?zlCam from your truck. Whether mounted on your windshield or dashboard, the adjustable swivel lens gives you the optimal view of the road. It also features a large, 6.0-inch glass screen with pinch to zoom. d?zlCam is essential equipment for truckers, pure and simple.
Built-in Dash Cam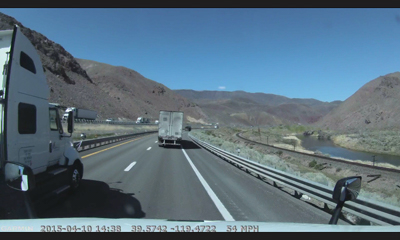 The second you hit the road, d?zlCam automatically records continuous HD video7. In the event of a collision, the Incident Detection (G-sensor) automatically saves footage on impact. Or, you can manually save footage with the touch of a button. The unit can easily be removed from its magnetic mount, allowing you to take close-up pictures of any collision damage with the Snapshot feature. Optional GPS overlay provides location, speed, date and time to precisely record when and where an incident occurred. An 8 GB microSD™ card is included. Play back video footage right on d?zlCam's large 6.0-inch display.
Helpful Road Warnings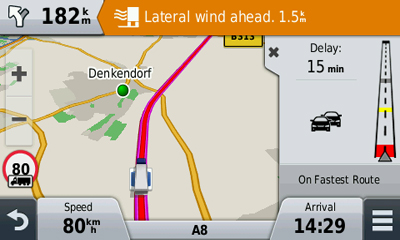 d?zlCam has detailed maps for Europe that also include truck-related restrictions — like bridge heights, sharp curves, weight limits and more — and related information for most major roads and highways.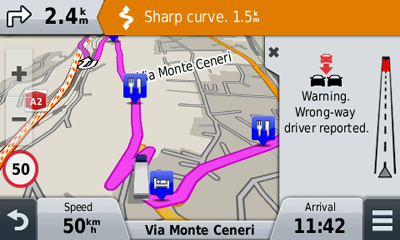 Customised Truck Routing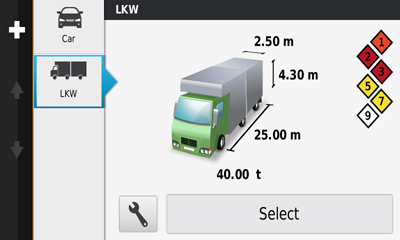 Just enter your vehicle profile information (customisable by height, weight, length, width and hazardous materials) and find truck-preferred routes suitable for the size and weight of your truck6. You can easily swap trailer sizes with the touch of a button. The onboard Trip Planner lets you create multiple-stop routes and plan and save future trips.
Easy Route Shaping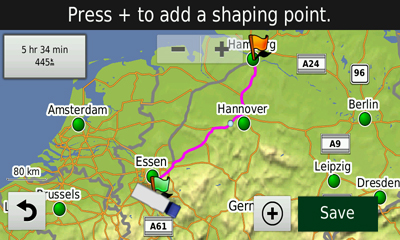 When you prefer to drive on certain streets or through specific towns, d?zlCam lets you easily alter your drive. Easy Route Shaping lets you add one or more points to the route you see onscreen and d?zlCam reconfigures the drive for you.
Truck-specific Points of Interest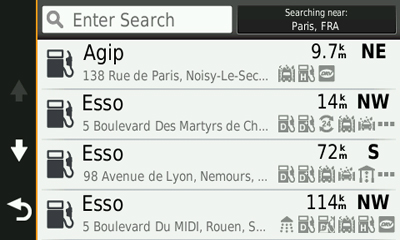 Need help finding places to go? Locate POIs that truck drivers care about including petrol stations, weigh stations, motorway services, parking, lodging, and more.
Hands-free Navigation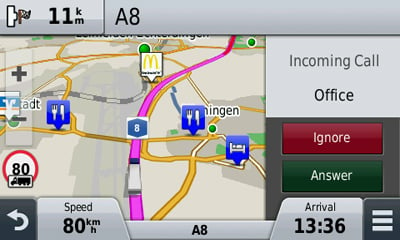 Sync a Bluetooth® compatible3 device, such as your smartphone, to d?zlCam for hands-free calling through its integrated microphone and speaker. d?zlCam can also be paired with a Bluetooth-compatible headset (sold separately) to make and take calls, even conference calls. d?zlCam is equipped with voice-activated navigation so you can keep your hands on the wheel. Just talk to d?zlCam, and it responds.
Digital Traffic – Our Best Traffic Solution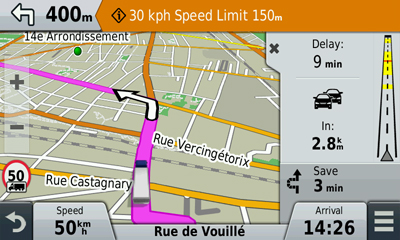 Digital Traffic is Garmin's best traffic solution. Digital Traffic is fast and free2 — no distracting advertising and no subscription fees, ever, for the useful life of your device. Digital Traffic receives updates as often as every 30 seconds. On the road, a few seconds' notice can save minutes or even hours of delay. Digital Traffic can tell you how many minutes of delay to expect and if there are any possible detours. It can even confirm whether or not you are on the fastest route. Digital Traffic has a greater coverage area to include motorways, A-roads and B-roads — in fact, up to 3 times more side road coverage. In addition to traffic information, d?zlCam receives free HD Weather, including current temperature and 6-day forecasts (free software update may be required).
Navigate Complex Interchanges with Ease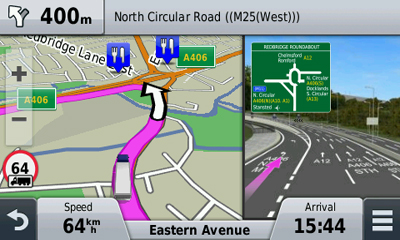 d?zlCam has Active Lane Guidance (ALG). ALG uses voice prompts and brightly coloured arrows to indicate the proper lane needed for your route, plus voice prompts telling you which lane(s) are acceptable to be driving in during your route. photoReal Junction View shows exits as they appear in real-life: in full colour and great detail. Bird's Eye Junction View offers a detailed view of junctions, looking down from overhead.
Spoken Directions Using Recognisable Landmarks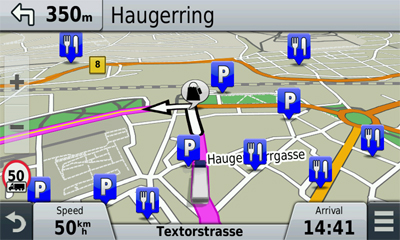 d?zlCam guides with a 6.0-inch glass display that is easy to see across your cab. Extra-loud, enhanced speakers deliver clearly spoken, turn-by-turn directions that are easy-to-hear even over road noise.
Spoken Garmin Real Directions™ guide like a friend, using recognisable landmarks, buildings and traffic lights, rather than hard-to-see or nonexistent street signs. For example, the navigation screen below would be accompanied by a voice prompt informing you to "Turn left at the Marks and Spencer"
Smartphone Link Compatible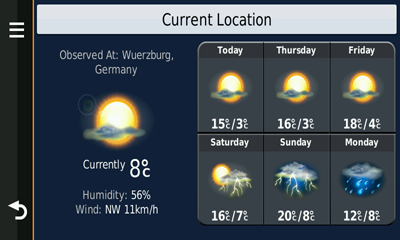 Smartphone Link4 is a free mobile app that connects your d?zlCam with your iPhone® or Android™ smartphone. When paired, your d?zlCam can use your phone's existing data plan to share information.
Smartphone Link also gives you access to Garmin Live Services5, useful real-time information such as weather or traffic available free and by-subscription. You may purchase premium content — like advanced weather radar data and images from traffic cameras — within the app.
Wireless Backup Camera Compatible
Add Garmin BC™ 30 wireless backup camera (sold separately) so you can easily see what's behind your truck when moving in reverse. When paired, d?zlCam shows transmitted footage, right on its bright 6.0-inch display. If desired, wire to constant power and easily toggle between camera and navigation modes. Professional installation recommended.
Up Ahead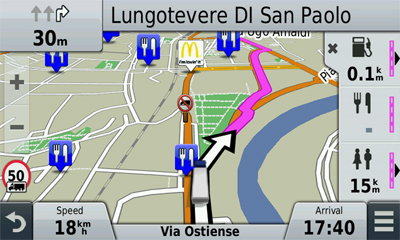 With Up Ahead, you can easily find places you want without leaving the map. As you drive your route, Up Ahead constantly informs you of nearby services, including food, fuel and ATMs. Best of all, Up Ahead is customisable, so you can always know the location of favourite destinations along the way.
More Information on the Road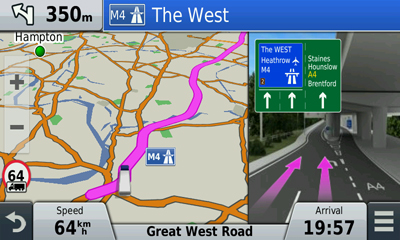 The navigation screen conveniently displays your speed, the posted speed limit, the current street you are driving on and your expected arrival time. Helpful trucking speed limits appear if they differ from the posted automotive speed limit. d?zlCam provides mile marker information. Its clock changes time zones automatically and provides sunrise/sunset times. Your d?zlCam also notifies you of country borders and estimates your arrival time.
Millions of New and Popular Places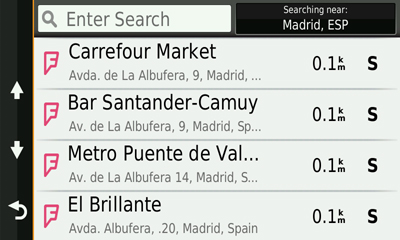 Our POI database now includes additional search information sourced from Foursquare®. Foursquare adds millions more new and popular restaurants, shops, services and more in your area.
Includes Lifetime Map Updates
d?zlCam LMT-D arrives loaded with detailed maps of Europe. With free lifetime1 map updates, your routes are sure to reflect the most up-to-date maps, POIs and navigation information available. New maps are available for download for the useful life of your GPS device, with no fees.
This video(s) is for guidance and usage purposes. For actual product, kindly check details & images above.
Part Number
010-01457-10
inthebox
d?zlCam LMT-D Lifetime maps¹ and digital traffic² (indicated by "LMT-D" after model number on the box) Vehicle suction cup mount and magnetic mount Lifetime traffic receiver/vehicle power cable USB cable microSD™ card Quick start manual
dimensions
7.2" W x 3.7" H x 0.6" D (1.3" D with camera)
DISPLAY SIZE
5.4"W x 2.8"H (13.6 x 7.2 cm); 6.1" diag (15.4 cm)
DISPLAY RESOLUTION
800 x 480 pixels
DISPLAY TYPE
WVGA color TFT with white backlight
Battery
rechargeable lithium-ion
BATTERY LIFE
up to 30 minutes
built in memory
internal solid state
accepts data cards
8 GB microSD™ card (not included)
waypoints favorites locations
1000
speaks street names
voice activated navigation
lane assist
route avoidance
bluetooth wireless tech
fm traffic compatible
Yes (Digital 3D Traffic)
speed limit indicator
custom pois
gps enabled
lifetime traffic updates
yes (Digital 3D traffic)
junction view
view upcominpoints of interest alonroute
country of manufacture
Taiwan
weight g
11.3 oz (319.2 g)
color
Black
high sensitivity receiver
preloaded street maps
includes life time map updates
numaps guarantee
d?zlCam LMT-D
Lifetime maps¹ and digital traffic² (indicated by "LMT-D" after model number on the box)
Vehicle suction cup mount and magnetic mount
Lifetime traffic receiver/vehicle power cable
USB cable
microSD™ card
Quick start manual