D2™ Charlie Titanium Bezel with Leather and Silicone Bands
Part Number :

010-01733-30
Key Features
Elegantly crafted GPS aviator watch features a scratch-resistant sapphire lens, diamond-like carbon (DLC) titanium finished bezel and interchangeable watchbands Aviation functions include full-color dynamic moving map, GPS navigation, NEXRAD weather display, airport information and automatic flight logging Smart notifications?1; help you keep in touch, while sport watch functions offer wrist-based heart rate?2;, activity profiles, fitness tracking?1; and more.
Luxury Takes Flight with Wrist-worn Precision GPS Mapping
Elegantly crafted GPS aviator watch features a scratch-resistant sapphire lens, diamond-like carbon (DLC) titanium finished bezel and interchangeable watchbands
Aviation functions include full-color dynamic moving map, GPS navigation, NEXRAD weather display, airport information and automatic flight logging
Smart notifications¹ help you keep in touch, while sport watch functions offer wrist-based heart rate², activity profiles, fitness tracking¹ and more
Dedicated Direct-to and Nearest buttons plus enhanced flight planning capability allow you to easily build/modify flight plans and transfer to the Garmin Pilot™ app
Includes baro-adjustable altimeter, compass with HSI, Zulu/UTC time reference, timers/alerts and more
Battery life: up to 12 days in smartwatch mode (depending on settings), up to 20 hours in GPS mode or up to 35 hours in UltraTrac™ battery saver mode
Ordinary watches have a movement. Revolutionary watches start a movement. Welcome to the revolution in global flight navigation, sparked by the D2 Charlie aviator watch.
With a rich array of color mapping, weather, waypoint reference and flight logging features, D2 Charlie sets the standard for on-wrist situational reference and backup navigation in your cockpit. You can pan and zoom the watch's moving map to quickly expand your view of airports, waypoints, terrain, obstacles or weather activity along your route of flight. Wherever you travel, smart notifications¹ (emails, text messages, alerts and more) can display on the watch to help you stay in the know while on the go. And between flights, you can use the latest sport watch features — including Elevate™ wrist-based heart rate monitoring¹, daily activity tracking¹, training metrics and more — to keep up with your personal fitness goals.
Premium Materials, Elegant Style
Crafted of premium-grade materials and featuring a titanium bezel with diamond-like carbon (DLC) finish, the D2 Charlie aviator watch is available in 2 distinctive versions. One features a vintage-style leather band, and the other sports a deluxe brushed titanium bracelet. Each watch has a bright, high-resolution, full-color Garmin Chroma Display™ with LED backlighting to assure great readability in all lighting conditions. For added scratch resistance, both versions incorporate a high-strength domed sapphire lens. QuickFit™ bands let you reconfigure the watch for any occasion, activity or adventure — no tools required. And you can further customize the look with free watch faces, photos, apps and data fields, available from our Connect IQ™ online store.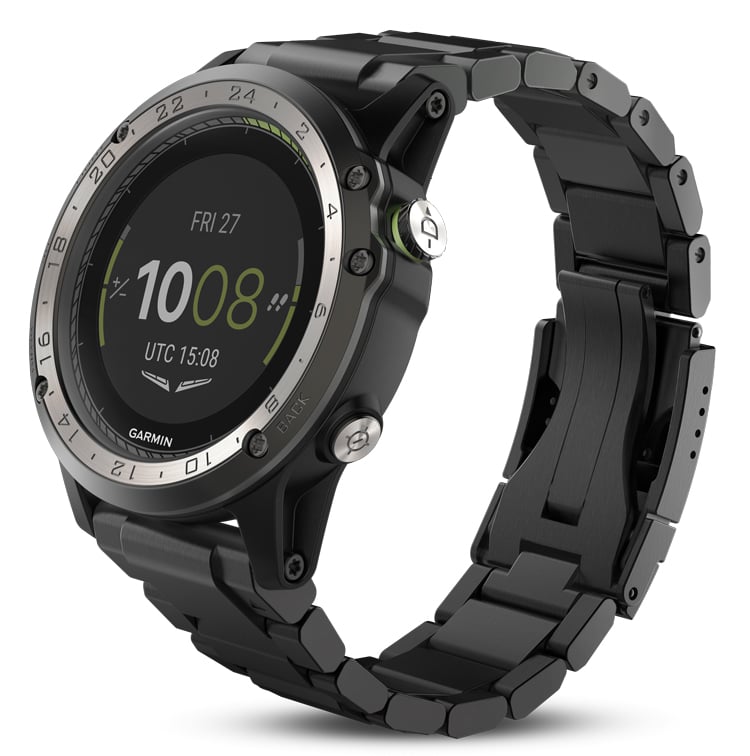 Detail-rich Moving Map
In aviation mode, the D2 Charlie watch's detailed moving map display and extensive databases help you visualize your flight path in relation to nearby navaids, airports, intersections and VFR reference features such as roads, cities, bodies of water and more. Enhanced Direct-to capabilities allow you to add multiple waypoints and fly a Direct-to course to any waypoint in your flight plan. And while in flight, you can view your route on the GPS-referenced dynamic map display — or follow the HSI course needle to your destination. By setting your own waypoints, you can also navigate easily to any location not included in the database. In fact, you can even create Mark on Target waypoints to easily reference — and return to — locations over which you've flown. There's also a dedicated Nearest button on the watch that will locate the closest airport if you need to land quickly for a mechanical issue, weather precaution or passenger emergency.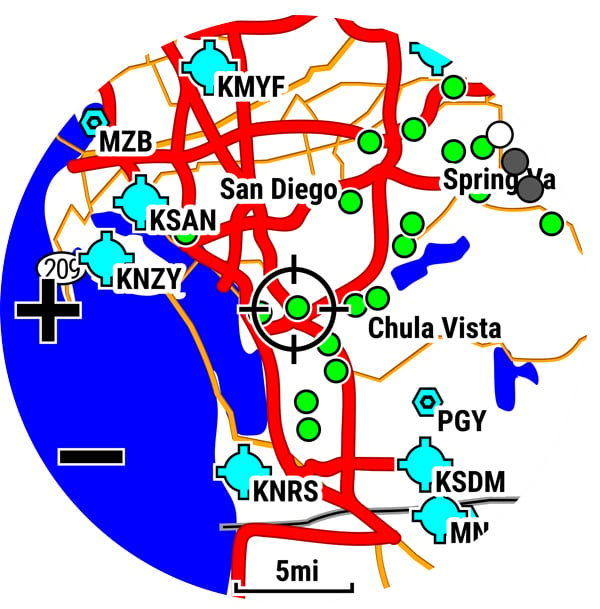 Weather with Radar Overlay
For at-a-glance updates on the weather for your departure airport, your destination airport or anywhere in between, D2 Charlie works wirelessly with your compatible smartphone to keep you informed. You can access location-based meteorological reports (METARs) and terminal forecast (TAF) information — including winds, visibility, precipitation, cloud cover, temperature, dew point, barometric pressure and more. A quick "hot key" shortcut — pressing Direct-to and Down keys — brings up high-resolution radar graphics (NEXRAD), overlaid on the moving map. So, you can easily access the data you need for weather trend awareness and smart preflight decision making.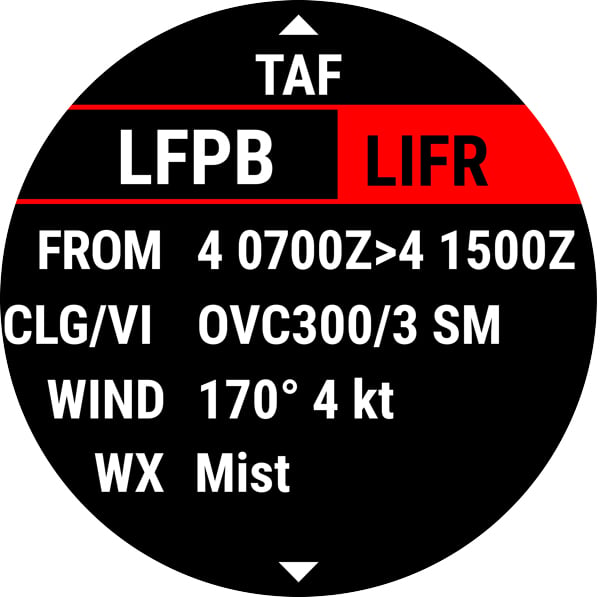 Flight Logging Is Automatic
With wireless connectivity to your smartphone, the D2 Charlie series can make quick work of flight logging and other record keeping tasks. During takeoff, the watch will detect your aircraft's change in altitude and automatically initiate the logbook function — recording date, duration, total flight time and route. Then after your flight is complete, it will sync this logbook data via your smartphone to flyGarmin.com and the Garmin Pilot app.
Your Flight Planning Connection
In addition to creating waypoints and routes on your watch, you can easily use Connext® wireless technology to transfer and sync flight plans from your iPad® tablet or other compatible mobile device running our Garmin Pilot app. So, your data entry and planning time are kept to a minimum. The watch can also provide GPS position information to compatible Garmin Pilot-equipped devices. What's more, you can connect D2 Charlie via a Wi-Fi® network to wirelessly update the free lifetime databases that come with your watch. A compatible ADS-B "In" device, such as our portable GDL® 39 receiver, will further enable the Garmin Pilot app to relay notifications of potential traffic or terrain conflicts — as well as other situational alerts — to your D2 Charlie watch.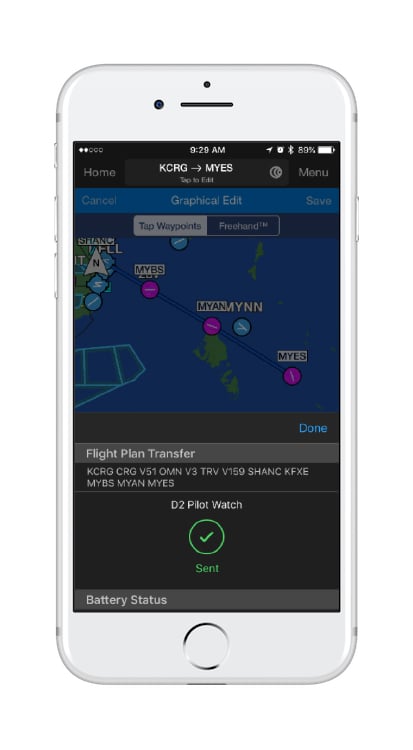 Customizable Features
With its customizable data fields, D2 Charlie makes it easy to access the data that's most important to you — such as current GPS groundspeed, GPS track, distance from waypoints/airports, estimated time en route, bearing, glide ratio and other key flight parameters. A handy altitude alerting feature can be set to notify you when reaching or leaving a preselected altitude. And you can also select a stopwatch function for timing approaches or flight legs. A baro-based O2 Altitude alert feature vibrates to remind you when supplemental oxygen is required at operating altitudes above 12,500'. Plus, various other timer functions with vibrating alerts can be set to let you know when it's time to switch fuel tanks or perform other time-critical tasks.
Advanced Multisport Features
Beyond its full range of flight-related functions, D2 Charlie also offers a complete feature set of sports/training, fitness and outdoor navigation tools. You can tap into an array of physiological metrics, running dynamics, fitness tracking features and more — so you can monitor your workout stats, measure your progress and help avoid injury. Special preloaded activity profiles are provided for golfing, swimming, running, biking, hiking, rowing, skiing and more. Plus, with the free Garmin Connect™ Mobile app, you can download more than 40,000 golf courses worldwide for precise course data, and use your watch as a digital scorecard. For added health and fitness motivation, also download advanced workouts and training plans to your watch from our Garmin Connect™ online community.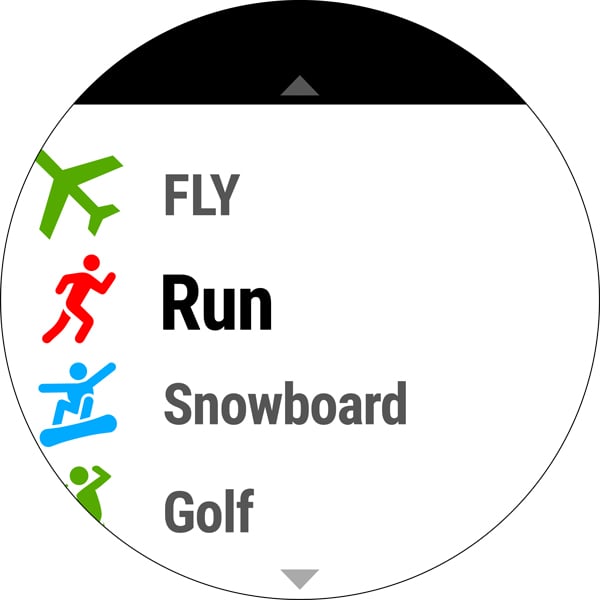 More Ways to Stay Connected
Smart notifications² through the D2 Charlie watch let you leave your phone in your pocket or flight bag — and still quickly screen phone calls, texts and other messages right on your watch. It also gives you access to automatic uploads and social media sharing via Garmin Connect as well as audio prompts, music controls and more. Also, when wirelessly connected to our VIRB® series of HD action cameras, your D2 Charlie watch has the ability to remotely start/stop video, view elapsed time for active recording, and even capture high-quality still photos — while live video is being recorded. You can even simultaneously control multiple VIRB cameras to capture the action from multiple angles.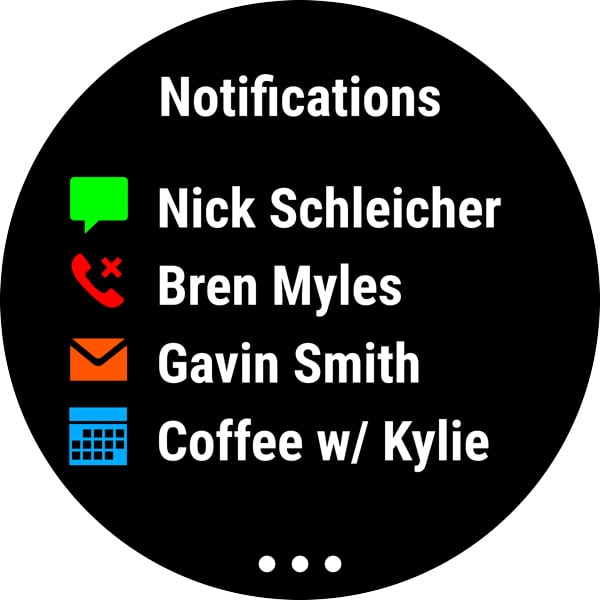 Part Number
010-01733-30
inthebox
D2 Charlie aviator watch with leather band Black silicone watch band Trial subscription of Garmin Pilot™ app Charging/data cable Documentation
DISPLAY SIZE
1.2" (30.4 mm) diameter
DISPLAY RESOLUTION
240 x 240 pixels
DISPLAY TYPE
sunlight-visible, transflective memory-in-pixel (MIP)
Battery
rechargeable lithium-ion
BATTERY LIFE
Smart mode: Up to 12 days GPS mode: Up to 20 hours UltraTrac™ mode: Up to 35 hours without wrist heart rate
gps enabled
WATER RATING
10 ATM
country of manufacture
Taiwan
weight g
silicone band: 89 g metal band: 147 g leather band: 95 g
electronic compass
BAROMETRIC ALTIMETER
INTERVAL TRAINING
STEP COUNTER
AUTO GOAL (LEARNS YOUR ACTIVITY LEVEL AND ASSIGNS A DAILY STEP GOAL)
MOVE BAR (DISPLAYS ON DEVICE AFTER A PERIOD OF INACTIVITY; WALK FOR A COUPLE OF MINUTES TO RESET IT)
sleep monitorinmonitors total sleep and periods of movement or restful sleep
COLOR DISPLAY
GLONASS
race predictor
runnindynamics
calculates calories burned
swim workouts
Yes
pool swim metrics lengths distance pace stroke countrate calories
stroke type identification e freestyle
open water swim metrics distance pace stroke countrate calories
worldwide airport database s
Yes
altimeter with adjustable
Yes
3 axis compass with hsi
Yes
multiple time zones with
Yes
wirelessly receive flight
Yes
ability to add maps
time and distance alert
POWER METER COMPATIBLE
LENS MATERIAL
sapphire crystal
bezel material
titanium
ALARM CLOCK
case material
fiber-reinforced polymer
GPS TIME SYNC
AUTOMATIC DAYLIGHT SAVING TIME
MEMORY/HISTORY
16 GB
TIMER
STOPWATCH
ACCELEROMETER
quickfit watch bands
silicone, leather or titanium
SUNRISE/SUNSET TIMES
garmin elevate wrist hrm
COMPASS
THERMOMETER
CONNECTIVITY
Bluetooth® Smart, ANT+®, Wi-Fi® with sapphire editions
connect iq
SMART NOTIFICATIONS
CALENDAR
WEATHER
music controls
VIRB® REMOTE
SMARTPHONE COMPATIBILITY
iPhone®, Android™, Windows®
compatible garmin connect
FIND MY WATCH
live track
GROUP LIVETRACK
GPS
foot pod
AUTO PAUSE®
face it watch face creator
HR ZONES
HR ALERTS
HR CALORIES
RECOVERY TIME
auto max hr
preloaded run profiles
Running, Indoor Running, Trail Running
gps based distance time
cadence provides real time
performance condition after
preloaded cyclinprofiles
Biking, Indoor Biking
RACE AN ACTIVITY
compatible with varia radar
COMPATIBLE WITH VARIA™ LIGHTS
speed and cadence sensor support
find my phone feature
nexrad on movinmap
movinmap with aviation
waypoint information page
worldwide navaid
FLOORS CLIMBED
DISTANCE TRAVELED
INTENSITY MINUTES
true up
MOVE IQ™
GPS SPEED AND DISTANCE
customizable data
ADVANCED WORKOUTS
downloadable traininplan
AUTO SCROLL
AUTO LAP®
MANUAL LAP
CONFIGURABLE LAP ALERTS
customizable alerts
AUDIO PROMPTS
FINISH TIME
VIRTUAL PARTNER
traininstatus
v02 max
traininload your
trainineffect
trainineffect anaerobic
COURSE GUIDANCE
ACTIVITY HISTORY ON WATCH
segments live garmin
customizable activity
touch and or button lock
HOT KEYS
FITNESS AGE
yes (in app)
round trip course creator
hr max
hrr
hrv stress test measures
yes (with compatible accessory)
records heart rate while
yes (HRM-Tri™ or HRM-Swim™)
hr broadcast broadcasts
vertical oscillation
yes (with compatible accessory)
ground contact time
yes (with compatible accessory)
STRIDE LENGTH (REAL TIME
yes (with compatible accessory)
bike lap and lap maximum
ftp functional threshold
yes (with compatible accessory)
strava features beacon
garmin cycle map routable
compatible with vector power
D2 Charlie aviator watch with leather band
Black silicone watch band
Trial subscription of Garmin Pilot™ app
Charging/data cable
Documentation
Customer Reviews
Based on 0 reviews
---
Sorry! there is no reviews about this product. Be the first one to
Write a review
about this product.