Part Number :

010-01338-31
The Evolution of Wrist-worn Portable Navigation
Thinner, lighter, more evolved GPS pilot watch design

Features METAR screen for the latest aviation weather information

Dedicated Direct-to and Nearest buttons enabled by a worldwide airport database

Scratch-resistant optical sapphire lens and crisp color display that's customizable with Connect IQ™ apps

Baro-adjustable altimeter, HSI, Zulu/UTC time reference, various timers and alerts plus wireless control for VIRB® cameras

First, Garmin invented wrist-worn portable navigation. Then, with the D2 Bravo pilot watch, we took the idea a step further — combining even more capability and features in an elegant design that is lighter, thinner, more connected and simpler to use in today's busy cockpit environments.
Added Features for Better Flying
With streamlined mode selection, a crisp color display, enhanced graphics, added wireless connectivity options and an easy-to-access METAR screen for weather information at a glance, the D2 Bravo is a true GPS-based flight system in a wrist-worn configuration. Think of it as a pragmatic backup navigation tool that doubles as a stylish, highly accurate timepiece that any pilot or aviation enthusiast would be proud to wear anywhere, anytime.
Look Sharp, See Sharp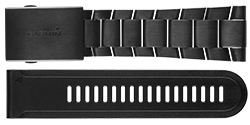 Every pilot needs a backup plan. And the D2 Bravo is a smart one. It boasts a high-sensitivity GPS receiver, altimeter with adjustable baro setting and a 3-axis compass with HSI course indication. There's a premium sapphire lens that offers superior hardness and scratch resistance. Plus, the bright, extra-crisp, full-color Garmin Chroma Display™ features LED backlighting for great visibility in all lighting conditions. With its distinctive leather strap (or included black rubber watchband), stainless steel bezel and reinforced composite housing, the D2 Bravo's stylish good looks promise extra-rugged durability as well.
Fly Direct-to or Nearest With Ease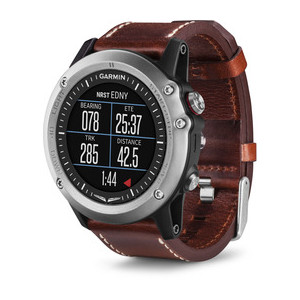 Using its built-in worldwide airport database, the D2 Bravo lets you access either of our signature Direct-to and Nearest routing functions by simply pressing dedicated buttons. So, you can fly straight to the location or waypoint of your choice — or find the nearest airport if you need to land quickly. You can view your route on a basic moving map display. Or, follow the HSI course needle to your destination. By setting your own waypoints, you can also navigate easily to any location not included in the database. In fact, you can even create Mark on Target waypoints to easily reference - and return to - locations you've flown over.
Keep an Eye on the Weather with METARs Reports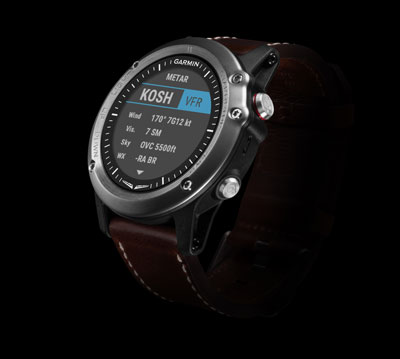 For at-a-glance updates on the weather for your departure airport or your destination — the D2 Bravo works wirelessly with your compatible smartphone¹ to bring you a screenful of current meteorological (METARs) information: winds, visibility, precipitation, cloud cover and heights, temperature, dew point, barometric pressure, etc.— all the vital measurements you need for smart pre-flight decision making.
Customizable Displays and Timers
To aid in situational awareness, you can assign customizable data fields to display GPS groundspeed, GPS track, distance from waypoints/airports, estimated time enroute, bearing, glide ratio and other useful flight parameters. There's also a handy altitude alerting feature that can be set to notify you when reaching or leaving a preselected altitude. The watch can show you local time and Zulu/UTC time. And you can select the stopwatch function for timing approaches or flight legs. The baro-based O2 Altitude alert feature will automatically notify you when you've reached an altitude where supplemental oxygen is required. Plus, various other timer functions with vibrating alerts can be set to remind you when it's time to switch fuel tanks or perform other time-critical tasks.
Control your VIRB Action Camera with Your Watch
The VIRB family of HD action cameras (sold separately) lets you capture the beauty and precision of flight in stunning detail. And, with its wireless connectivity, your D2 Bravo watch can also be used with your VIRB to remotely start/stop video, view elapsed time for recording or even capture high-quality still photos — while shooting live video. You can even control multiple VIRB cameras at the same time, to capture the action from multiple angles.
Custom Apps and Watch Faces
Personalize D2 Bravo with free downloads from our Connect IQ store. You can customize your watch face, add data fields and get apps and widgets that provide information at a glance.
Part Number
010-01338-31
inthebox
Sapphire D2 Bravo watch with brown leather band Black rubber watch band (replacement tools included) Free 6-month trial of Garmin Pilot USB charging/data cable AC adapter Quick start manual
dimensions
2.0" x 2.0" x 0.6" (51.0 x 51.0 x 16.0 mm)
DISPLAY SIZE
1.2" x 1.2" (30.4 x 30.4 mm)
DISPLAY RESOLUTION
218 x 218 pixels, transflective MIP color
Battery
rechargeable lithium-ion
BATTERY LIFE
Up to 50 hours in UltraTrac mode; up to 20 hours in GPS flight mode; up to 6 weeks in watch mode
built in memory
32 MB; available 23 MB
gps enabled
WATER RATING
10 ATM
country of manufacture
Taiwan
weight g
2.98 oz (84.4 g)
high sensitivity receiver
electronic compass
BAROMETRIC ALTIMETER
garmin connect compatible
vibration alert
heart rate monitor
yes (optional)
bike speed cadence sensor
yes (optional)
automatic sync
INTERVAL TRAINING
heart rate based calorie computation
virtual racer
trainineffects
music control
STEP COUNTER
AUTO GOAL (LEARNS YOUR ACTIVITY LEVEL AND ASSIGNS A DAILY STEP GOAL)
MOVE BAR (DISPLAYS ON DEVICE AFTER A PERIOD OF INACTIVITY; WALK FOR A COUPLE OF MINUTES TO RESET IT)
sleep monitorinmonitors total sleep and periods of movement or restful sleep
accelerometer calculates distance for indoor workouts without need for a foot pod
virb control
COLOR DISPLAY
negative mode display
GLONASS
smart notifications displays email text and other alerts when paired with your compatible phone
watch functions
Zulu/UTC, time of day (12/24h), calendar (day/date), daily alarm
virtual pacer compares current pace to target
v02 max estimate
recovery advisor
race predictor
runnindynamics
personal records
compatible with vector
multiple bike profiles
auto multisport switch sport modes with 1 button press
calculates calories burned
virtual partner train against a digital person
auto pause pauses and resumes timer based on speed
multi sport changes sport mode with a press of a button
advanced workouts create custom goal oriented workouts
pool swim metrics lengths distance pace stroke countrate calories
stroke type identification e freestyle
open water swim metrics distance pace stroke countrate calories
pace alert triggers alarm
worldwide airport database s
Yes
altimeter with adjustable
Yes
3 axis compass with hsi
Yes
multiple time zones with
Yes
ability to add maps
Sapphire D2 Bravo watch with brown leather band

Black rubber watch band (replacement tools included)

Free 6-month trial of Garmin Pilot

USB charging/data cable

AC adapter

Quick start manual
Customer Reviews
Based on 0 reviews
---
Sorry! there is no reviews about this product. Be the first one to
Write a review
about this product.