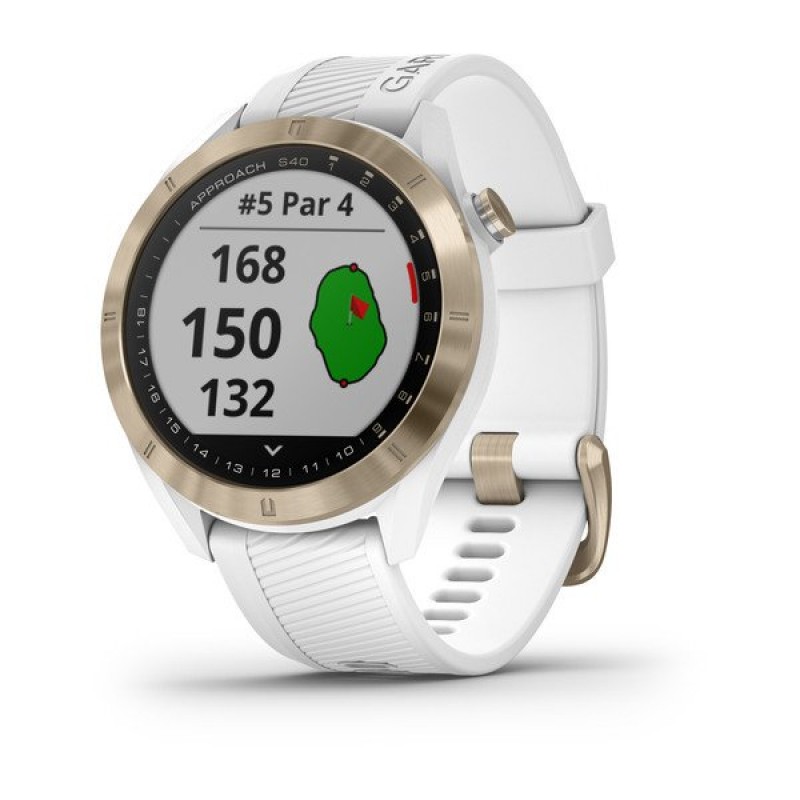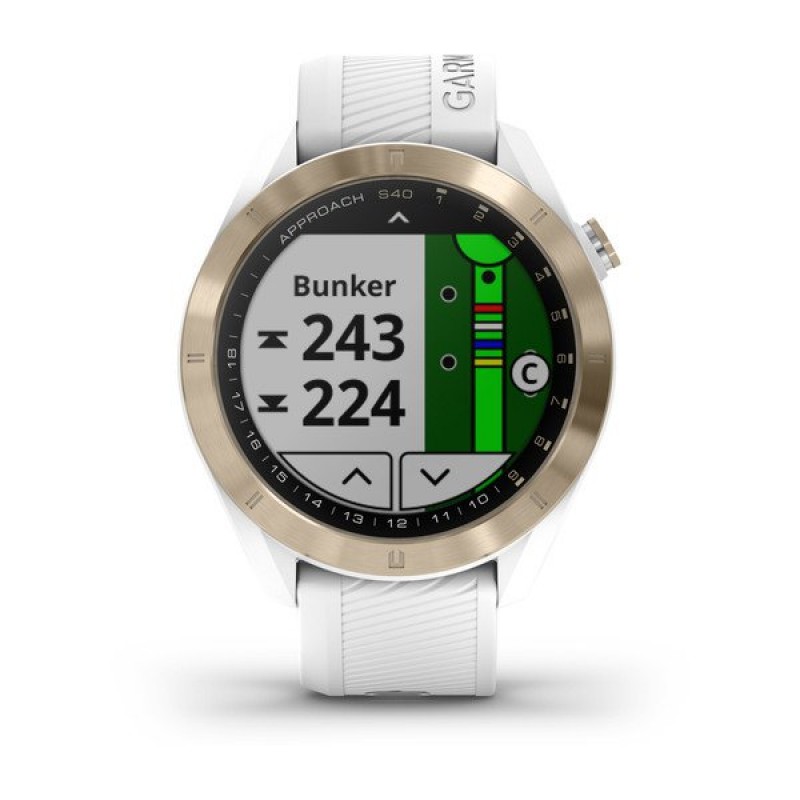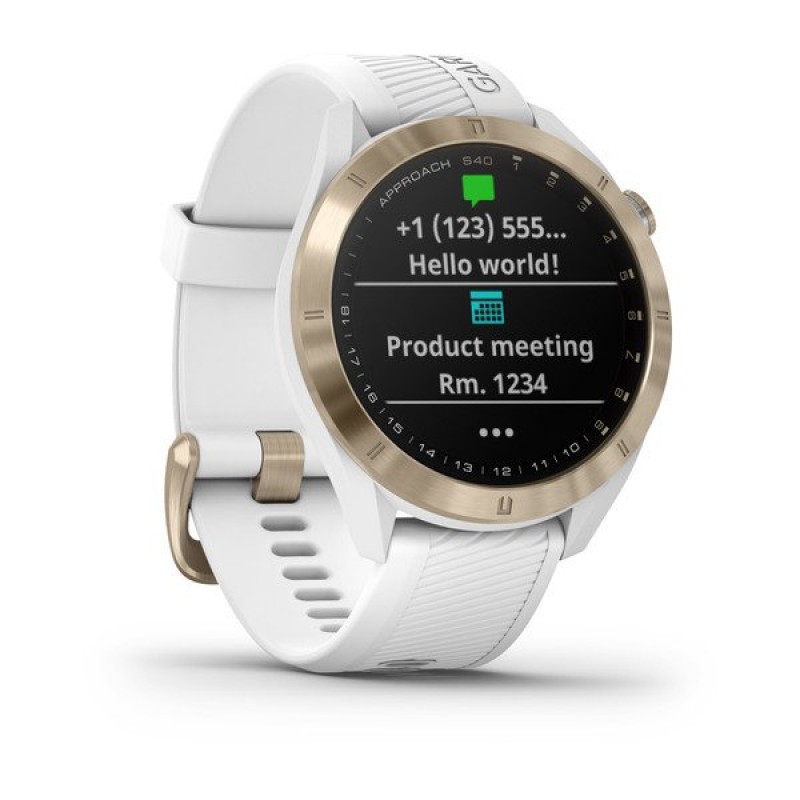 Approach® S40 Light Gold with White Band
Part Number :

010-02140-02
Key Features
Looks great on your wrist and on the course
The Garmin Approach S40 is a stylish, lightweight GPS golf watch with a sunlight-readable 1.2" colour touchscreen display and metal bezel, as well as quick release bands for easy change of style or colour
Preloaded with more than 41,000 courses from around the world
Looks great on your wrist and on the course
The Garmin Approach S40 is a stylish, lightweight GPS golf watch with a sunlight-readable 1.2" colour touchscreen display and metal bezel, as well as quick release bands for easy change of style or colour
Preloaded with more than 41,000 courses from around the world
AutoShot™ game tracker1 measures and auto-records shot distances and locations along the fairway; pair with included Approach® CT10 club tracking sensors to complement the AutoShot game tracking capabilities, so you can now track each individual shot on any type of club — putt and chip shots included — giving you a complete overview of your game
Green View feature allows manual pin positioning; quickly reference distances to the front, middle and back of the green as well as hazards and doglegs
Tracks everyday activities2 such as steps and sleep, and includes built-in multisport profiles
Battery life: up to 15 hours in GPS mode; up to 10 days in smartwatch mode
The Approach S40 GPS golf smartwatch with colour touchscreen looks great on your wrist and on the course. It shows distances to the front, middle and back of the green as well as hazards, and automatically records detected shot distances1. It also lets you manually adjust to today's pin position for accurate approach shots. For even more precise automatic game tracking, pair with the included Approach CT10 club tracking sensors. Use with the Garmin Golf™ app for live scoring, automatic scorecard uploads and the ability to review all your stats in real time during play and after your round on your compatible smartphone. With the additional smartwatch features, you can wear it all day, and it can track your activities2.

Wear it out
Even when you're not playing golf, this watch is a stylish, lightweight performer. Its 1.2? colour touchscreen display with attractive metal bezel is as comfortable out on the town as it is on the course. When a subtle change of style is desired, it features quick release bands for an easy wardrobe change.
Keep track and keep score
Whilst the AutoShot game tracker1 records the shot distances and locations of your drive and approach shots, the Approach CT10 club sensors can be attached to your putter and wedges so you can now also track chip shots next to the green and your putts — giving you a complete overview of your game. In addition, the CT10 also enables automatic club tracking and scoring and collects detailed game analysis — such as strokes gained statistics used by the pros — for your entire game.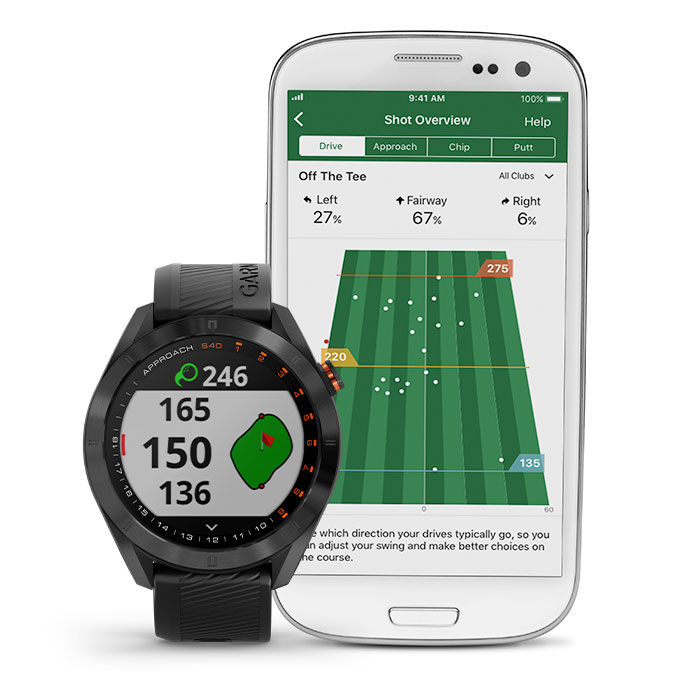 Know your clubs
Adding lightweight and secure Approach CT10 sensors will help you know your clubs better than ever. Is your 6-iron really your 150-yard club? How far do you consistently hit your drives, really? Is it a pitching wedge shot? Or more like a 9-iron? It's easy to know for sure with Approach CT10 golf club trackers, which automatically track every shot on any club — even chip shots and your putts.
Go for the pin
Green View gives you each green's true shape from wherever you are on the course, and it allows you to manually drag-and-drop to today's pin location for a more precise yardage and greater accuracy.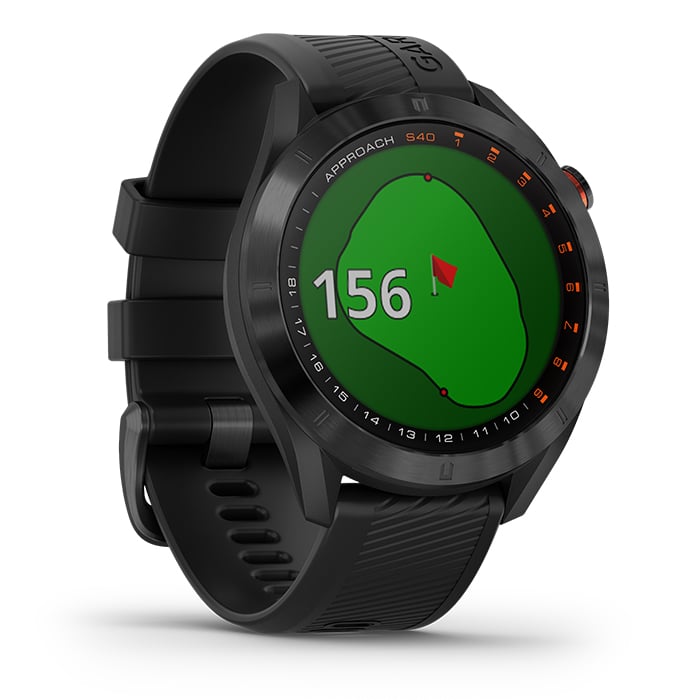 Stay on top of it
Sync Approach S40 to your compatible smartphone to receive smart notifications for incoming calls, texts, emails and other alerts displayed right on your wrist.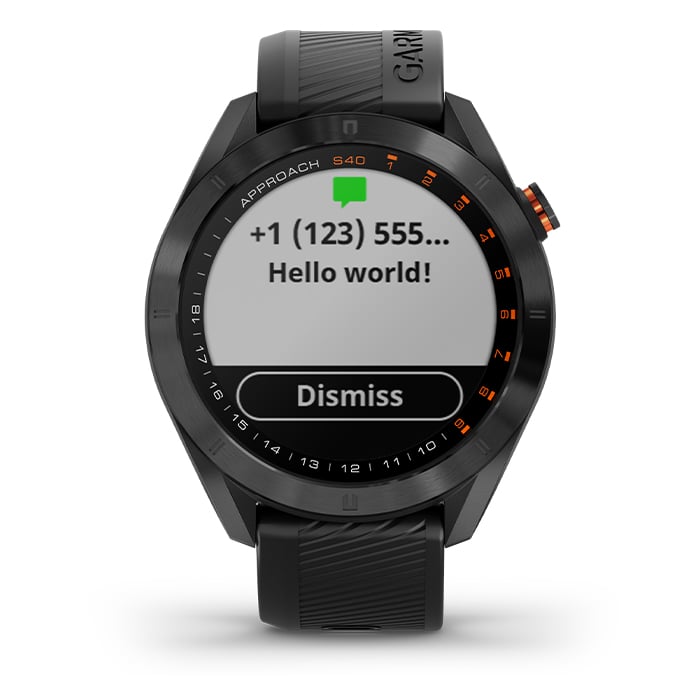 Add more fun and competition
Download the Garmin Golf app to compete on leaderboards on any of our 41,000 courses. Compete against your friends with live scoring, automatic uploads and the ability to review all your golf stats in real time during play and after your round. With activity tracking features, including the move bar, vibration alerts, calories and steps, the Approach S40 GPS golf watch encourages you to stay fit, day in and day out. All your activity tracking stats are collected for you to view and analyse on our Garmin Connect™ online community.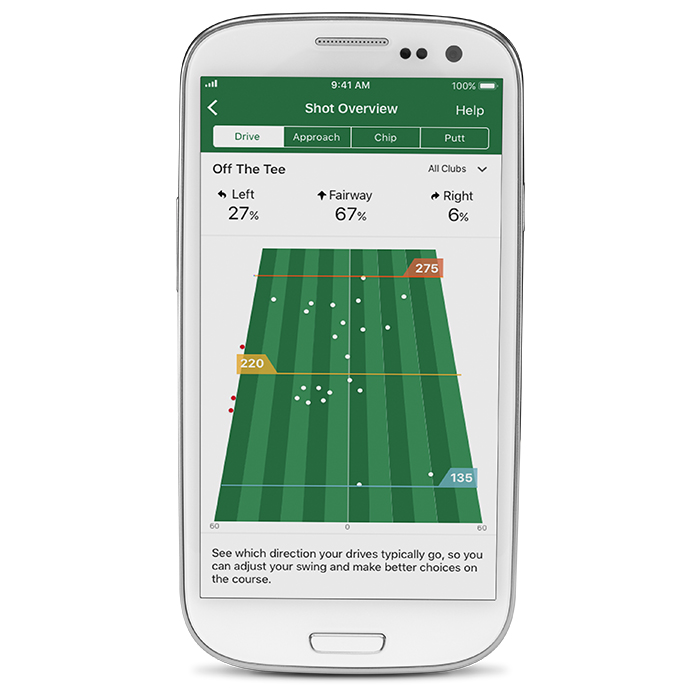 Play another round
With up to 15 hours of battery life while golfing — or up to 10 days in smartwatch mode — your Approach S40 can easily keep up. So, why not go for another 18?
1 Lie and ball contact may affect shot tracking. Putts are not tracked. Some shots, particularly chip shots around the green, may not be tracked.
2 See Garmin.com/ataccuracy